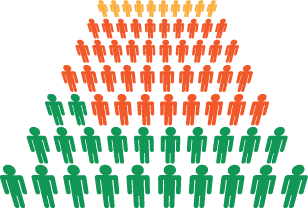 50% of employees are admittedly not engaged meaning that they go through each workday putting in time but no passion into their work. Disturbingly, more than 15% of employees are actively disengaged… they're essentially working against the Company.
Why is employee engagement important?
---
To fully understand how horrible the above statistics are, picture this: A group of 10 of your best employees are out white water rafting on a very fast river. Three of them are rowing their hearts out, five are taking in the scenery and two are trying to sink the boat. It's hard to believe how companies can function when so few of their employees are actively engaged.
The HR Power Centre has become an indispensable tool for AnswerNet's HR department. There are top quality materials, thorough and informative. And the HR Hotline is a bonus.
Want to increase your profitability?
---
Provide leading edge on-line training and people management information to your managers and supervisors to position them to increase Employee Engagement and therefore profitability in your company.
Our Employee Engagement Certification Course provides an introduction to Employee Engagement and covers the key drivers that your managers and supervisors can learn and implement to improve engagement and profitability.
Want to manage your employees effectively?
---
The HR Power Centre not only provides the direction and tools to implement the Employee Engagement drivers but also provides everything you need for effective people management.
The HR Power Centre's six modules contain over 1500 pages of guides, forms and direction on all aspects of people management. Now, you can deal effectively with the day-to-day people management issues that inevitably arise. And, if you get into trouble, our HR Hot Line is available 24/7.