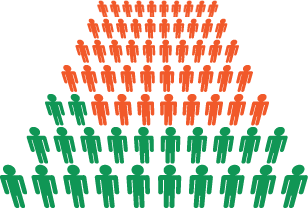 Worldwide research shows that only 30% of employees are actively engaged in their jobs. Those "engaged" employees work with passion and feel a strong connection to their company.
Why is employee engagement important?
---
To fully understand how horrible the above statistics are, picture this: A group of 10 of your best employees are out white water rafting on a very fast river. Three of them are rowing their hearts out, five are taking in the scenery and two are trying to sink the boat. It's hard to believe how companies can function when so few of their employees are actively engaged.
The website is easy to use and TwoGreySuits is very responsive to the 24/7 HR Hotline. The Employee Engagement Certification Course will be a valuable addition for our member companies. This is unquestionably a valuable member benefit we will continue to offer for many years to come.
How can it help your members?
---
Provide your members with the tools they need to increase Employee Engagement and improve company results at a significant discount from the retail cost.
We will work with you and your membership to explain the value, generate interest and ensure successful implementation.
Want to keep your existing members and attract new ones?
---
Companies want to perceive that they are getting value from their Association membership. Providing them with access to leading edge on line training in the critical area of Employee Engagement plus a comprehensive HR Tool Kit and Hot Line will demonstrate the Association's commitment to providing that value.